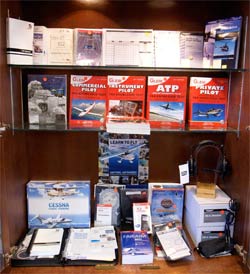 Welcome to the Pilot Shop of Spirit Aviation – the premier home for flying enthusiasts in the CSRA and surrounding areas.
Here at our Pilot Shop you will find everything you need to make your flight safer and more comfortable. We are dedicated to meeting the needs of our pilots—if you need it, chances are we have it.
The Spirit Aviation Pilot Shop is a full service shop. We are open 7 days a week, from the hours of 9 am to 5 pm. We carry a large selection of:
Maps & charts
Flight manuals
Training books
Headsets and flight gear
Snacks & sodas
Cleaning fluids
Oils & lubricants
Aviation GPS
Aviation books
Flight bags
Plus, we offer gift certificates if you want to give one to your favorite pilot. If you have questions about our Pilot Shop, please call Spirit Aviation at 706-595-1300.
About Spirit Aviation
Spirit Aviation is proud to be the leading FBO for the CSRA, Augusta, Thomson and the Reynolds Plantation/Lake Oconee Resort areas. We are located at the Thomson McDuffie-Regional Airport and offer a full range of services to the aviation community, including flight training, fueling, hangar rental spaces, conference rooms and catering, a pilot lounge and pilot store plus much more.
We are also home to the Thomson Flight School and the Thomson Flying Club. For more information about either, simply visit their pages by using the navigation on this site.
For questions, please call 706-595-1300 or contact us via email.